Our close friend on the WiiDS - Cronogenesis has become quite excited at the thought of a sequel to Michel Ancels incredible yet criminally overlooked masterpiece Beyond Good and Evil. Find out what he has to say after the jump.
Jumpman In Minus World: Beyond Good & Evil 2
Once you have read his views and one we very much share here on WiiDS - Take a second to sign this petition - and get this title from pre production to store shelves - and into your beloved game collection - all you have to do is sign your name on the petition below.
http://www.petitiononline.com/bgaep/petition.html
It's simple. You have the power to make this happen - so use it! Thanks to Cronogenesis for informing us of the news, continuing to make his blog pages a damn good read!, his support for bringing this game to fruition and giving the game and Michel Ancel a chance to get the recognition that they deserve! Also a huge thanks to the ongoing efforts at BGE2 Revolution
(
http://z6.invisionfree.com/BGE2_Revolution/index.php?act=idx
)
And a final thank you to you guys,
the listeners and readers who I just know are going to make this happen. Don't let this one slip away. If you have not had a chance to play the original then seek it down on consoles on auction sites and bargain bins around the country. Those who live in the U.S can pick the game up on PC through Steam for $8 - Its only $8. Americans can also get it for FREE by becoming a Gold member on Gametap for 99 cents!
http://www.gametap.com/play/gameDetails/000278650
so why not take a look eh? You WILL be pleasantly surprised.
Viva la Revolution!
Mani@WiiDS.
Current Location:

Akuda Bar

Current Mood:

optimistic

Current Music:

Propaganda
Current Location:

Warios Gold Mine

Current Mood:

nostalgic

Current Music:

Mario Kart Wii






While we're on the subject, there were rumours (recently dismissed) that Boom Blox would feature headtracking. I've only just discovered what this is myself, so for those not in the know:






In the ongoing education of Tom, Episode 54 brought up the subject of why Boom Blox, the physics-based puzzle game brought to you by EA and Steven Spielerg (of all people!), looks so fun. So here, in this trailer, is why it will be one to watch:
(Cannes, April 9) Erik Huggers, the BBC's Group Controller for Future Media and Technology, today unveiled a collaboration with Nintendo UK to offer BBC iPlayer via the Nintendo Wii.

In a keynote speech at the annual MipTV-Milia conference in Cannes, Huggers revealed that as of today Nintendo Wii users can stream their favourite BBC programmes direct to their TVs via the console.

Huggers said: "Working with Nintendo marks another exciting milestone for BBC iPlayer. It underlines our commitment to reaching new audiences by making BBC iPlayer available on as many platforms as possible. The BBC's catch-up TV service can now be accessed on an increasing number of different platforms – from the web and portable devices to gaming consoles. It will shortly be available on TV."

David Yarnton, General Manager, Nintendo UK, added: "This exciting alliance with the BBC is yet another way in which Nintendo is looking to broaden the market for its products by offering compelling and relevant content to families. BBC iPlayer on Wii will offer Wii owners another reason to turn their console on everyday and adds to the already established non gaming content on Wii that includes news and weather channels and an internet browser."

Once the iPlayer service for Wii is live, a message will be sent to all Wii consoles in the UK currently connected to the internet to notify them of the availability of the iPlayer service. Existing Wii owners will then be able to access BBC iPlayer via the Internet Channel on the Wii main menu. New users may be required to download the Wii Internet Channel. Once installed, users simply click through to www.bbc.co.uk/iplayer <http://www.bbc.co.uk/iplayer> , and search for the programme they want to watch.
There are plenty of news reports around the net, all of which may or may not be confusing the details - lost in translation, etc - but here, for your pleasure, is the official press release. Keep it under your hat, folks:
Cubed3
, the publisher has emailed its customers to let them know the discs are finished, but just in case you didn't get that particular memo, here's the email we pinched from their site:
As you know, some consumers have not been able to enjoy the full audio output of Dolby Pro Logic II on the Wii version of Guitar Hero III. Activision has worked with Nintendo to improve the audio experience and has re-mastered the game. We are offering Wii consumers who have Dolby capabilities or audio issues free replacement discs.

To receive your replacement disc please go to the following website: http://activisiongameexchange.eu/
Still playing Guitar Hero III in that godawful mono-channel sound? Fear not, because reports across the net suggest the replacement discs Activision promised (waaaaay back at the beginning of the year) are ready. According to
The footage below speaks for itself. Look out for more information on this WiiWare title at Nintendo's upcoming media summit on the 10th and 11th April.
Here, carefully plucked from MTV's site is the sketch from a man (or woman/surfer girl/Scot?) in the know:
Source: In Stock Magazine | Full Story: MTV News
A motion sensitive controller similar to the Wii Remote could be in development for the Xbox 360, and it may appear on shelves before the year is out.

According to MTV News, a developer who was briefed on the project has said Microsoft has been working on this new controller since last summer and production is being handled by Rare, the UK development studio purchased from Nintendo by the Xbox 360 manufacturer.

The source provided MTV with a sketch of the most recent prototype, which boasted the four face buttons, a microphone, a speaker and an analog stick rather than Nintendo's D-pad, as well as motion control. While there is no companion controller like the Nunchuk, the source claims there are plans to allow interaction between the new Remote and the Xbox Live Vision Camera.

"[Microsoft] want the usual assortment of Halo, Gears, Forza, etc, just in waggle form," the source told MTV. "[Microsoft] marketing just want it so they can match the Wii point for point. The biggest parts of their marketing materials outline how easy it would be for third parties to port their Wii games to the 360."

As part of the project, Rare has also designed avatars to compete with Nintendo's Mii characters, for use with any game that utilises the new controller and create a standard "look" across the range of titles incorporating it. However, the studio has encountered problems meeting deadlines and Microsoft is said to be "trying to decide how to get something out by the end of the year".
Expect some serious ranting/discussion on Episode 53 this Monday, as we report on the apparent expose MTV news is running this morning. Motion controls on Xbox? A Remote-style design? Xbox Live Miis? And all overseen by the continually treacherous Rare? Believe it or not, like it or not, it may all turn out to be true.
We can clearly see a line of coins ahead of Baby Mario and around the whole map of Mario Circuit 1 to the right. Does this mean we are going to be collecting coins, reversing round corners, breaking boxes and beating big bad bosses on the big screen? Lets hope so. Once again thanks to Darkoopa for finding this interesting screen-shot. In episode 49.5 (Community Service) the WiiDS discussed whether Nintendos official websites were worth spending our time on - myself, Jason and Dippy all pretty much agreed that they weren't. Maybe it's time to start forming second opinions...
Sources: Darkoopa (WiiDSforums)
http://www.nintendo.co.uk/NOE/en_GB/games/wii/mario_kart_wii_7387.html
Mario Kart Wii is set to boost off the starting line in as little as four days. Yet it seems we still may not know everything there is to know about this game. Our very own Darkoopa from the WiiDS forums has been snooping around Nintendos Official UK Mario Kart Wii site and found a very interesting screen-shot, which may point to the inclusion of a mission mode much like the one that debuted in Mario Kart DS!
I really don't have much to say about this one - as I was and still am speechless. I shall just let his forum desciption do the job for me.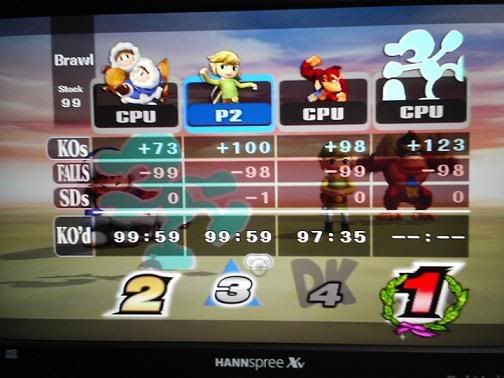 3 L9 Computers
1 Pirate Ship
All Items
99 stock
394 KO's
1 Suicide
More time than the game clock allows
56120% damage
238 Final smashes

This is madness???
THIS IS BRAWL!!!
This weeks 'Smash Snap Of The Week' goes to the one and only Cronogenesis! His snap (which he took with his own camera) is of the final stats screen after what only can be described as an utterly EPIC brawl! Quite a strange entry this one. Glance down at the shot below and I am sure you will agree that Cronogenesis is completely bonkers and that just makes him and this screen grab even more awesome! Well done Sir, here on the H.M.S WiiDS - we salute you.
Current Location:

The Great Sea

Current Mood:

shocked

Current Music:

Smash Bros Brawl


What we do know is that the game will consist of over 30 levels spanning 8 different environments and will be the first Wii game to have 4 player Co-op via Wifi Connection. Details on this are not clear, however Sakurai said somewhat mysteriously - that "players will need to combine enemy powers and often sacrifce each other if they want to succeed." Some of what he says can be seen in the short trailer of the hotly anticipated title below.





We knew this was coming, But so soon?! How? When we don't even have Brawl yet? Im feeling dizzy...From the trailer its easy to see the Brawl tech at work - and the game looks quite similar to the Sub Space Emissary mode found in Sakurais latest monster hit.

Sakurai has confirmed that the next Kirby game is coming to Wii - and sooner than you think. Titled Kirby: World of Shadows - the game takes place directly after the events of Kirby & The amazing mirror and will run on the same Engine that was used to create the masterpiece that is Super Smash Bros Brawl. Not much of the story elements of the game have been revealed - as it is to be fully unveiled at a media press conference prior to this years Electronics and Entertainment Expo (E3) which runs form the 15th to the 17th of July.
Current Mood:

silly